Merimbula
Search by Activity Type:
Merimbula Activities & Attractions
Activities & Attractions
The brilliant sapphire blue waters which surround Merimbula are magical for all forms of water sports including fishing, swimming, surfing, wave sailing, canoeing, diving etc. For the less energetic hire a boat from Top Lake Cruises off Lakewood Drive and cruise the lake at your pace.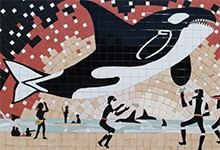 ---
Sapphire Coast Marine Discovery
Snug Cove Wharf-253 Imlay Street Eden NSW 2551
For a touch tank experience where you can closely examine marine creatures from local rocky shores. At the new marine laboratory you can examine species under microscopes. See spectaucular footage of marine life in the theatre.
Open during school holidays or by appointment-Group bookings and coaches welcome.
---
Merimbula Air Services
Arthur Kaine Drive Merimbula VIC 2548
Situated at Merimbula Airport
Gabo Island Adventures - "The Big Day Out"
Scenic Flights. Aircraft Charter. Flying Training.
Helicopter Flights, Skydiving, Aerial Photography
Whale Watching Flights Sept-Nov
---
Merimbula Aquarium/Restaurant
Lake Street Merimbula NSW 2548
Fabulous 27 tank aquarium plus fantastic ocean tank. Great spectacle for all the family.
Delicious coffee and cake Lunch from 11.30. Licensed
Check off season hours
---
Oaklands at Pambula
3546 Princes Highway Pambula NSW 2549
On the Princes Highway 500 metres Eden side Pambula
Art Gallery, Wooden Toys, Animal Nursery. Trail Rides.
Cafe for breakfast, snacks, coffee Open Daily
---
Middle Beach
Merimbula NSW 2548
200 metres from Cliff Street down the track to this sheltered spot.
---
Mitchies Beach
Merimbula NSW 2548
Favourite with the kids south side of lake off Fishpen Road. Sheltered beach looking straight across the lake to the township. Fishing charters leave from jetty.
---
Magic Mountain Family Fun Park
Sapphire Coast Drive Merimbula NSW 2548
Open daily from 10am during school holidays (check off season times) Triassic Park Walk, Toboggan Run, Waterslides, Mini Golf, Grand Prix Cars. Kiosk, BBQ and Picnic Facilities. Plenty of parking. School Group Concessions Available
---
Coastlife Adventures
Merimbula NSW 2548
Marine Kayak Tours or Learn to Surf
Enjoy the beauty of the area's pristine waters and marine life on a guided 2 hour tour with our qualified instructors. We provide stable 2 person kayaks, wetsuits, refreshments and lots of adventure in either Pambula or Merimbula
---
Water Safety Hints
• Swim or surf only at beaches patrolled by lifeguards
• Always swim between the flags marking the area safer for swimming.
• Read and obey the signs
• Be careful where you dive – accidents often result from diving into shallow waters.
• Be aware of slippery banks and rocks when fishing
• Don't swim under the influence of alcohol or drugs
• Always swim under supervision
• If you get into trouble in the water, stay calm. Signal for help, then float and wait for assistance
• Float with a current or undertow. Don't try to swim against it.
• When out on the water always wear the correct safety equipment.
---