Merimbula
Search by Activity Type:
Merimbula Activities & Attractions
The brilliant sapphire blue waters which surround Merimbula are magical for all forms of water sports including fishing, swimming, surfing, wave sailing, canoeing, diving etc. For the less energetic hire a boat from Top Lake Cruises off Lakewood Drive and cruise the lake at your pace.
Activities & Attractions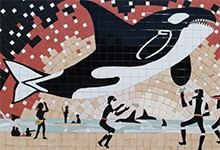 ---
Potoroo Palace
Princes Highway Merimbula NSW 2548
Native Animal Education Sanctuary. See animals in their native habitat.
Wombats, Kangaroos, Koalas, Crocodiles, Dingos, Snakes, Echidnas, Potoroos
Sandstone Cafe for snacks and lunch
Open Thursday to Monday (plus all school holidays)
---
Middle Beach
Merimbula NSW 2548
200 metres from Cliff Street down the track to this sheltered spot.
---
Mitchies Beach
Merimbula NSW 2548
Favourite with the kids south side of lake off Fishpen Road. Sheltered beach looking straight across the lake to the township. Fishing charters leave from jetty.
---
Merimbula Aquarium/Restaurant
Lake Street Merimbula NSW 2548
Fabulous 27 tank aquarium plus fantastic ocean tank. Great spectacle for all the family.
Delicious coffee and cake Lunch from 11.30. Licensed
Check off season hours
---
Cat Balou Cruises - All Year - Bookings Essential
Port of Eden Eden NSW 2551
Twofold Bay Cruises all year round. Bookings Essential. Whale Watching Cruises Sept thru November
---
Sapphire Aquatic Centre
Pambula Beach Road Pambula Beach NSW 2549
The only 12 month indoor multi-use aquatic centre in the Bega Valley Shire - A Tourist Facility - General Recreation.
Learn to swim, Baby Boomers & Older Programs, Warm water exercise, Access for the disabled, Young children's water confidence programs, Kids Water Playground. Aged therapy.
---
Coastlife Adventures
Merimbula NSW 2548
Marine Kayak Tours or Learn to Surf
Enjoy the beauty of the area's pristine waters and marine life on a guided 2 hour tour with our qualified instructors. We provide stable 2 person kayaks, wetsuits, refreshments and lots of adventure in either Pambula or Merimbula
---
Main Beach
Merimbula NSW 2548
5 kilometres of surf beach with Merimbula to the north and Pambula to the South.
Great fishing and windsurfing. Open ocean so just be aware of the conditions and tides.
---
Eden Killer Whale Museum
Imlay Street Eden NSW 2551
Established in 1931, is one of the oldest museums in NSW, and records for posterity this incredible battle between intrepid men in rowboats, armed only with hand harpoons and the leviathans of the sea. The whalemen were, however, assisted by a pod of killer whales and the museum contains the unique story and the skeleton of the most famous of the killer whales "Old Tom".
The skeleton is the only one on public display in the southern hemisphere.
---