Eden
Search by Activity Type:
Eden Activities & Attractions
General Information
Eden was originally settled by whalers and is now a fishing port and popular holiday resort town.
Eden was named in 1843, after the British Secretary of the Colonies, Baron Auckland, whose family name was Eden.
Eden is steeped in the tradition of the sea, fishing charters and bay cruises can be had at any time of the year with whale watching very popular between September and November. Get up close and personal with these gentle giants. You can also view visiting whales from the Rotary Park Lookout.
Whales fill a big part of Eden's history and no visit is complete without visiting the Killer Whale Museum which is home to numerous pictorial displays, full sized artifacts, television presentations and the authentic skeleton of "Old Tom" leader of a killer whale pack in 1929.
Eden is one of the few places in the world where Humpback Whales visit on their migratory route. The waters are rich with krill and the whales stop to feed.
The Eden Killer Whale Museum sounds a siren when whales are in close proximity to vantage points around Twofold Bay.
---
Local Radio
2 Sea FM 104.7 FM
"The Voice of the Sapphire Coast"
Bega to Mallacoota
---
Sapphire Aquatic Centre
Pambula Beach Road Pambula Beach NSW 2549
The only 12 month indoor multi-use aquatic centre in the Bega Valley Shire - A Tourist Facility - General Recreation.
Learn to swim, Baby Boomers & Older Programs, Warm water exercise, Access for the disabled, Young children's water confidence programs, Kids Water Playground. Aged therapy.
---
Visitor Information Centre
Cnr Mitchell St & Princes Hwy Eden NSW 2551
Friendly, Helpful Service awaits you.
Huge range of displays, literature, maps.
Assistance with accommodation, attractions, tours and general information about Eden and surrounds.
Book whale watching, bay cruises and deep sea fishing trips.
---
Tennis
Beach Drive - Book at Mobil Service Station (02) 6496 1370
---
Service Directory
Emergency Services 000
Eden Ambulance 13 12 33
Pambula Hospital 6495 6002
Bega Hospital 6492 9111
Dental Surgery 6496 4222
Curalo Medical Centre 6496 3322
Police 6496 1444
Water Police 6496 0699
Fire 6496 1506
NRMA Road Service 6496 1529
Taxi 6496 1180
---
Church Services
Aboriginal Evangelical Church
Sunday 11.00am Corner Moorhead and Clare Streets
Pastor: Ossie Cruse Phone: 6496 2186
Youth Chaplin: Tim Maher Phone: 6496 1757
St John's, Anglican
Sunday 10.00am Calle Calle Street
Rev. Helen Cowgill Phone: 6496 1466
Catholic
Vigil Mass Saturday 6.00pm
Our Lady Star of the Sea, Calle Calle Street
Priest: Father Peter Gannon Phone: 6495 1880
Sisters of St Joseph Convent Phone: 6496 3367
Church of Christ Sunday 6.00pm
RSL Hall, Corner Bass and Calle Calle Streets
Pastor: Brian Dixon Phone: 6496 3367
Uniting Traditional Sunday 9.30am
St George's, Chandos Street
Pastor: Judith Dalton Phone: 6496 2501
---
You may also like to consider the following:
Activities & Attractions
Eden is a natural paradise awaiting exploration. Forest drives, bushwalking, sightseeing, exploring Ben Boyd National Park and Twofold Bay. The region is steeped in the tradition of the sea and you can see migrating whales between September and November or book your seat on a whale watching cruise.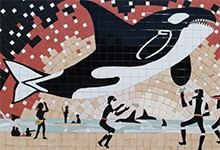 ---
Eden Killer Whale Museum
Imlay Street Eden NSW 2551
Established in 1931, is one of the oldest museums in NSW, and records for posterity this incredible battle between intrepid men in rowboats, armed only with hand harpoons and the leviathans of the sea. The whalemen were, however, assisted by a pod of killer whales and the museum contains the unique story and the skeleton of the most famous of the killer whales "Old Tom".
The skeleton is the only one on public display in the southern hemisphere.
---