Eden
Search by Activity Type:
Eden Activities & Attractions
Activities & Attractions
Eden is a natural paradise awaiting exploration. Forest drives, bushwalking, sightseeing, exploring Ben Boyd National Park and Twofold Bay. The region is steeped in the tradition of the sea and you can see migrating whales between September and November or book your seat on a whale watching cruise.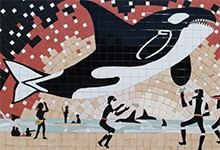 ---
Davidsons Whaling Station
See relics of the try-works and read about the life of 19th century whalers at Davidson's Whaling Station site on the shores of Kiah Inlet at Twofold Bay.
More Information contact Eden Visitors Information Centre
Ph: (02) 6496 1953 Email: info@edentourism.com.au
---
Cat Balou Cruises - All Year - Bookings Essential
Port of Eden Eden NSW 2551
Twofold Bay Cruises all year round. Bookings Essential. Whale Watching Cruises Sept thru November
---
Water Safety Hints
• Swim or surf only at beaches patrolled by lifeguards
• Always swim between the flags marking the area safer for swimming.
• Read and obey the signs
• Be careful where you dive – accidents often result from diving into shallow waters.
• Be aware of slippery banks and rocks when fishing
• Don't swim under the influence of alcohol or drugs
• Always swim under supervision
• If you get into trouble in the water, stay calm. Signal for help, then float and wait for assistance
• Float with a current or undertow. Don't try to swim against it.
• When out on the water always wear the correct safety equipment.
---
Whale Watching Cruises Sept to Nov
Port of Eden Eden NSW
Whale watching cruises depart daily from late September to late November. Twofold Bay cruises available all year.
All cruises subject to weather and passenger numbers.
---
Edrom Lodge
South of Eden near the Chip Mill stately Edrom Lodge was completed by John Logan in 1913. Today is used for conferences, educational and group activities.
Further Information from Eden Visitors Centre
ph: (02) 6496 1953 Email: info@edentourism.com.au
---
Ocean Wilderness Sea Kayaking
Bermagui-Eden-Merimbula
Ocean Wilderness Sea Kayaking has been welcoming guests to the Sapphire Coast since 2006. Our guides are the resident experts on the water and all have Australian Canoeing Certification. We provide tailor made guided tours on the Far South Coast of NSW to suit all ages and experience levels. Ocean Wilderness Sea Kayaking is a member of the Outdoor Recreation Industry Council.
---
Magic Mountain Family Fun Park
Sapphire Coast Drive Merimbula NSW 2548
Open daily from 10am during school holidays (check off season times) Triassic Park Walk, Toboggan Run, Waterslides, Mini Golf, Grand Prix Cars. Kiosk, BBQ and Picnic Facilities. Plenty of parking. School Group Concessions Available
---
The Picture Show Man
80 Main Street Merimbula NSW 2548
New release movies screened daily in air-conditioned comfort. Both cinemas are equipped with Dolby Digital Surround Sound. Digital Projection Technology for our on-screen advertising and selected feature films.
Tickets may be purchased for any programmed session in advance. Telephone bookings not accepted. ATM facilities at Cinema . Candy Bar with all the movie going goodies available. Parking accessible from Merimbula Drive.
---
Eden Killer Whale Museum
Imlay Street Eden NSW 2551
Established in 1931, is one of the oldest museums in NSW, and records for posterity this incredible battle between intrepid men in rowboats, armed only with hand harpoons and the leviathans of the sea. The whalemen were, however, assisted by a pod of killer whales and the museum contains the unique story and the skeleton of the most famous of the killer whales "Old Tom".
The skeleton is the only one on public display in the southern hemisphere.
---