Eden
Search by Activity Type:
Eden Activities & Attractions
Activities & Attractions
Eden is a natural paradise awaiting exploration. Forest drives, bushwalking, sightseeing, exploring Ben Boyd National Park and Twofold Bay. The region is steeped in the tradition of the sea and you can see migrating whales between September and November or book your seat on a whale watching cruise.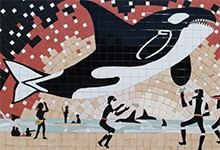 ---

The principal relic of Ben Boyd's adventures is the Seahorse Inn which began construction in 1843 however it was abandoned in 1849 and for almost a century was left vacant.
In 1936 it was purchased by the Whiter Brothers who renovated it and added a second story.
In 1975 Bruce Lyon purchased the Seahorse Inn and in 2002 he closed the Inn and spent a considerable amount of time renovating and refurbishing the old hotel. He added the Brasserie and Conference rooms and transformed it into the beautiful hotel it is today. Accommodation is available. Open 7 days.
---
Whale Watching Cruises Sept to Nov
Port of Eden Eden NSW
Whale watching cruises depart daily from late September to late November. Twofold Bay cruises available all year.
All cruises subject to weather and passenger numbers.
---
Edrom Lodge
South of Eden near the Chip Mill stately Edrom Lodge was completed by John Logan in 1913. Today is used for conferences, educational and group activities.
Further Information from Eden Visitors Centre
ph: (02) 6496 1953 Email: info@edentourism.com.au
---
Davidsons Whaling Station
See relics of the try-works and read about the life of 19th century whalers at Davidson's Whaling Station site on the shores of Kiah Inlet at Twofold Bay.
More Information contact Eden Visitors Information Centre
Ph: (02) 6496 1953 Email: info@edentourism.com.au
---
The Picture Show Man
80 Main Street Merimbula NSW 2548
New release movies screened daily in air-conditioned comfort. Both cinemas are equipped with Dolby Digital Surround Sound. Digital Projection Technology for our on-screen advertising and selected feature films.
Tickets may be purchased for any programmed session in advance. Telephone bookings not accepted. ATM facilities at Cinema . Candy Bar with all the movie going goodies available. Parking accessible from Merimbula Drive.
---
Cat Balou Cruises - All Year - Bookings Essential
Port of Eden Eden NSW 2551
Twofold Bay Cruises all year round. Bookings Essential. Whale Watching Cruises Sept thru November
---
Sapphire Aquatic Centre
Pambula Beach Road Pambula Beach NSW 2549
The only 12 month indoor multi-use aquatic centre in the Bega Valley Shire - A Tourist Facility - General Recreation.
Learn to swim, Baby Boomers & Older Programs, Warm water exercise, Access for the disabled, Young children's water confidence programs, Kids Water Playground. Aged therapy.
---
Merimbula Air Services
Arthur Kaine Drive Merimbula VIC 2548
Situated at Merimbula Airport
Gabo Island Adventures - "The Big Day Out"
Scenic Flights. Aircraft Charter. Flying Training.
Helicopter Flights, Skydiving, Aerial Photography
Whale Watching Flights Sept-Nov
---
Water Safety Hints
• Swim or surf only at beaches patrolled by lifeguards
• Always swim between the flags marking the area safer for swimming.
• Read and obey the signs
• Be careful where you dive – accidents often result from diving into shallow waters.
• Be aware of slippery banks and rocks when fishing
• Don't swim under the influence of alcohol or drugs
• Always swim under supervision
• If you get into trouble in the water, stay calm. Signal for help, then float and wait for assistance
• Float with a current or undertow. Don't try to swim against it.
• When out on the water always wear the correct safety equipment.
---