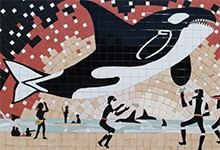 As well as charter vessels which take passengers to watch the whales at sea there are some great places to do shore based whale watching. To the south of Eden, Green Cape and South Head in the southern section of the Ben Boyd National Park are excellent vantage points to spot whales. Within Twofold Bay there are viewing platforms at the Rotary Park Lookout and at the eastern end of Bass Street.
Send an Enquiry:
To send an enquiry for Whales & Whale Watching, please fill out the form below.
---
Disclaimer: Whales & Whale Watching, staff and agents have made every endeavour to ensure that details appearing on this website are correct at the time of publication, but accept no responsibility for any inaccuracy of misdescription, whether by inclusion or omission, nor does the owners of the CoastalStays group of websites accept any responsibility for subsequent changes in details or services shown.